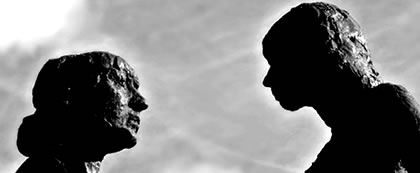 Yesterday I led a presentation skills training for a group of nonprofit fundraisers.
As we practiced "connection techniques" (ways to use voice, body language, and eyes to connect with the listener), one participant asked,
"Many times, we have to make phone calls to people we don't know. How can we apply this training?"
I had a difficult time answering him.
On one hand, I could help him find ways to connect with a stranger over the phone. (vocal variation, warmth of tone, etc.) But really, I knew this would be insufficient.
Phone solicitations work when the listener has already made a commitment. The phone call merely seals the deal. The goal here is not connection - but rather completion.
The power of
conversation
can only be truly realized in a live format.
While so much is lost in non-live exchange, perhaps the greatest sacrifice is eye contact.
As a speaker, the most powerful way to engage your listener is by truly looking him in the eye. This is true whether you are speaking to an audience of 1 or 1,000.
On a fundamental level, human beings want to be seen.
And making eye contact is the most fundamental and the most powerful to do this.
From the Green Room: If you really need something from somebody, don't sacrifice your greatest asset - your eyes. Take the time to meet face to face and make sustained, direct eye contact. Even if you are speaking to a large group, this is the most powerful way to connect.